BREAKING: The Lower Road Rail Corridor Use Advisory Council votes to recommend the construction of the trail!
The Merrymeeting Trail would be a 26-mile trail in midcoast Maine, connecting the villages of Topsham, Bowdoinham, Richmond, and Gardiner. It would utilize the long-unused "Lower Road" railroad corridor, owned by the State of Maine, and link the Kennebec River Rail Trail in the north to the Androscoggin River Bicycle and Pedestrian Path in the south — joining Augusta to Brunswick (and one day to Bath!) in an incredible "capital to coast" connection.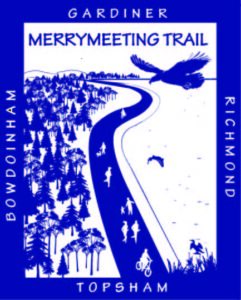 For over 15 years, towns and volunteers along the route have worked to make this vision for connected communities a reality. (And we're making progress!) The Merrymeeting Trail would be an amazing asset for these communities and the surrounding region — creating a natural, multi-use connector that runs through villages, forests, fields, and along beautiful rivers. It would attract visitors, support local economic activity, and improve public health.
Please explore this website to learn more about the Merrymeeting Trail, and sign up to receive updates about our progress. We'll look forward to meeting you on the trail one day soon!